Representations of Narasimha, the half human – half lion incarnation of Lord Vishnu are available in South India, since the Chalukya - Pallava times. Life size carving of this deity found at Cave no.3 in Badami, Karnataka is one of the early sculptures. The Cave temples at Anaimalai (near Madurai), Namakkal and Singaperumal Koil (near Chennai) and the structural temple at Ghatikachalam (Sholingur) are some of the early shrines in Tamilnadu dedicated to Narasimha.
The Chola artisans of 10th Century A.D. continued to celebrate the concept of Narasimha. Especially, the fight between Narasimha and the demon king Hiranyakashibu is a popular adoption frequently encountered in various forms and sizes. Different stages of this legendary combat have captured the attention and imagination of the artists and many interesting variations of this theme are available from temples at Thiruppattur, Pullamangai, Srirangam, Thirumiyachur etc. For example, the Thiruvalanthurai Mahadevar temple has two representations of the Lord – one on the Second Tala (western side) of the Srivimana and another as a Kanda Padha Miniature sculpture on the basement. The sculpture we are going to discuss here, is a miniature panel found at Ganga Jatadhara temple at Govindapputtur, Ariyalur district, Udaiyarpalayam Taluk. The temple can be ascribed to the period of Chembiyan Mahadevi – the pious Chola queen whose generosity and devotion resulted in the renovation / construction many temples.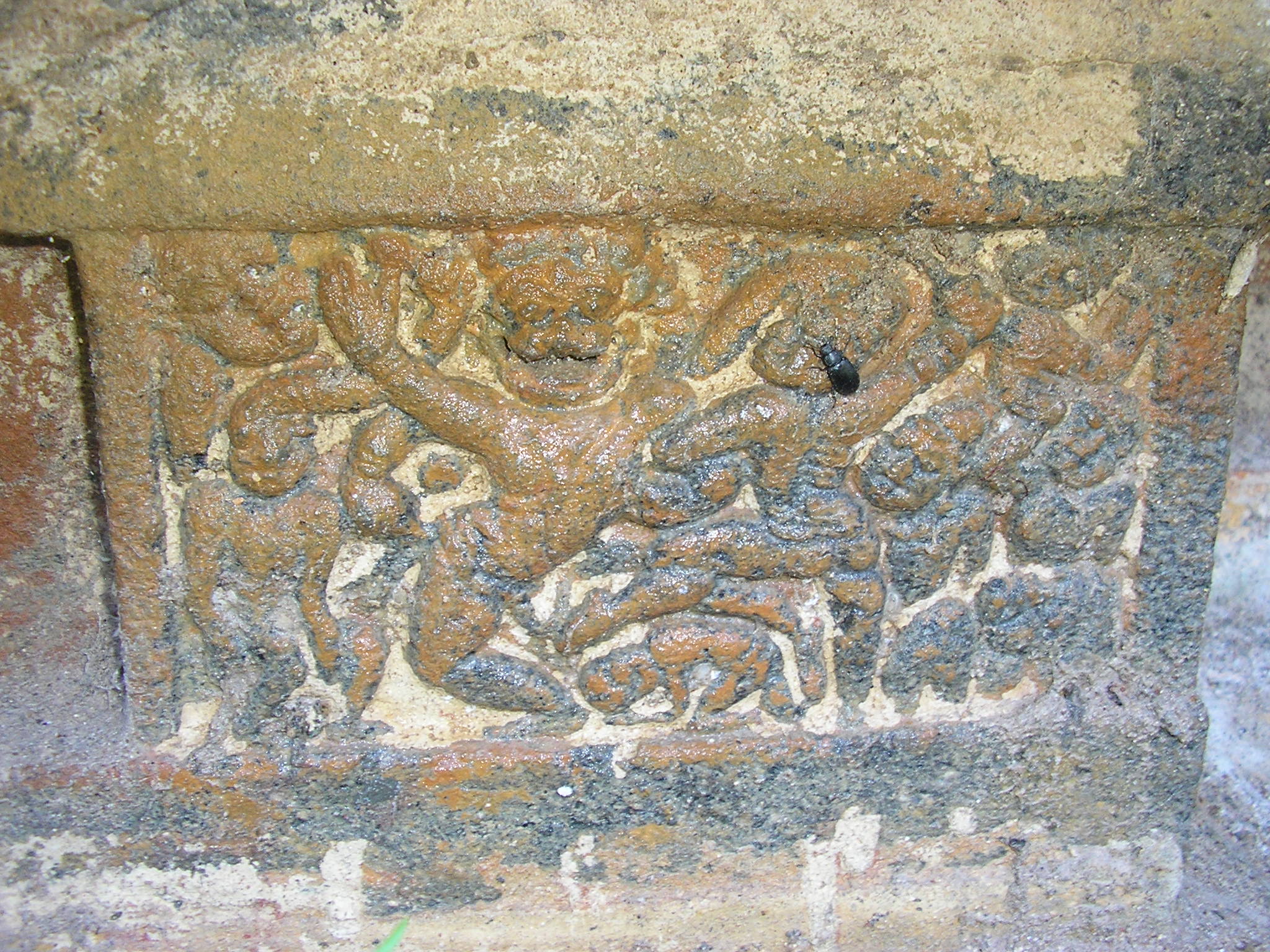 The Narasimha figure on the left is represented here with eight hands. He is wearing a Yajnopavita and a Udara bandha. His lion's mane is raised in tension. The open mouth captures a sense of vigour and anger with which the confrontation is proceeding.
Narasimha's left hand is tightly locked with the left hand of Hiranyakashibu – who is shown here on the right side. Similarly, his left leg is also juxtaposed with that of his opponent. The demon king is relentlessly trying his level best to attack the Lord with his sword, even while his head is being pushed back by the latter.
There are many other demons trying to attack Narasimha simultaneously. Some of his other hands –are kept busy, trying to keep them at bay. The raised right hand, for example, is trying to control the figure on the top right corner. Prahaladha, the child devotee of Narasimha and the pious son of Hiranyakashibu, is prostrating himself at the feet of the Lord.
Looking at the sculpture, one wonders what might have provided the inspiration for such an imagination. Was it one of the recognized ways to combat an opponent? Or was inspired by some kind of dance / drama on the same theme, performed during the Chola times?
We might never know.
this is txt file