Review by Vidvan K.S.Kalidas
Indian Fine Arts Society, Chennai celebrated the birth centenary of the legendary musician G.N.Balasubramaniam on the 4th and 5th January 2010. The celebration committee brought out three significant releases viz. a documentary on the musician titles 'Isai Vaseekaran', a special cover brought out by the postal department and a book of compilation of articles on GNB titled 'Gandharva Ganam', jointly edited by Lalitha Ram and V.Ramnarayan. Lalitha Ram is a young enthusiast of music and an ardent admirer of GNB, although he was born fifteen years after the musician's passing away. Besides music, he is passionately interested in history. He has a penchant for research and has authored a book on GNB in Tamil, "Isaiulaga Ilavarasar GNB", which is eminently readable and has been widely welcomed by the public. He is one of the editors of the felicitation volume, Airavati, dedicated to the scholar Iravatham Mahadevan. The other editor of Gandharva Ganam is V.Ramnarayan, editor-in-chief of the magazine sruti dedicated to performing arts, besides being a journalist.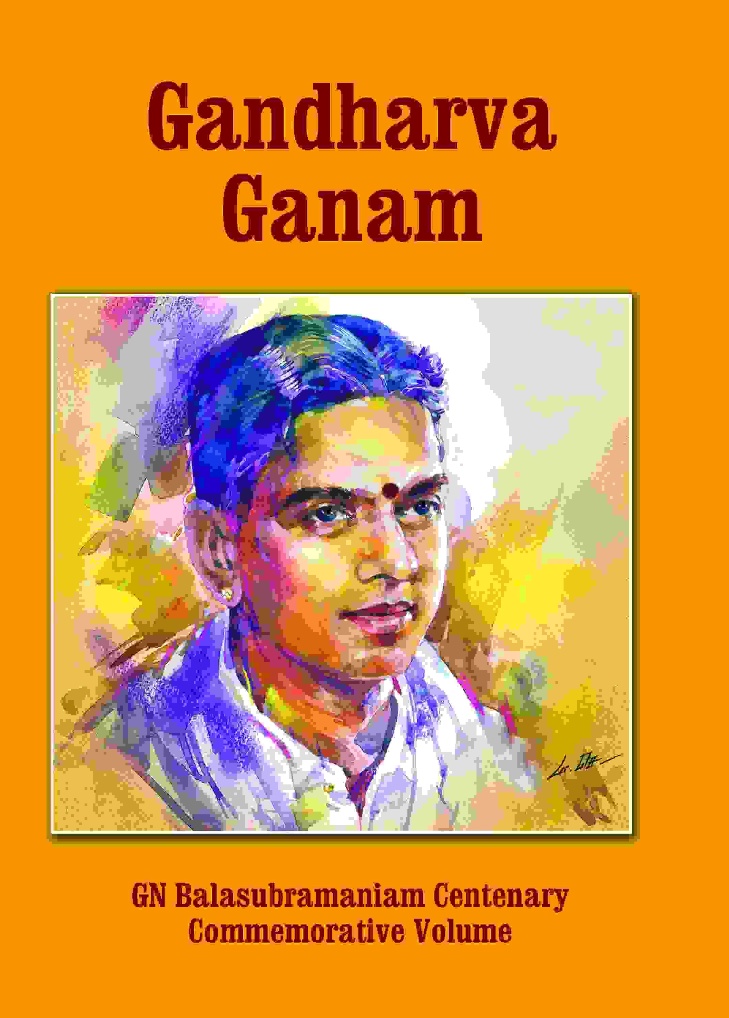 The book was originally intended to be a souvenir but it has turned out to be an impressive book of 264 pages carrying negligible advertisement material. There is also a CD containing choice music of GNB without accompaniments. In an ingenious concept, the book has been divided into three sections 'Ragam', 'Tanam' and 'Pallavi' reflecting the importance GNB gave to RTP in his public concerts.
'Ragam' contains GNB's biography as well as articles from musicians and musicologists on various technical aspects of GNB's music. The list of musicians include veteran S.Rajam to young maestro T.M.Krishna. GNB's music has been analysed in detail and include the uniqueness of his voice, his kutcheri technique, his alapanas of ragas including rare ones, sruti bedham, laya prowess and his compositions. Although a certain amount of repetitiveness could not be avoided, in the main, the articles are focused and objective.
'Tanam' section exceeds in length over 'Ragam' and consists of about ninety pages of articles, three of which are by GNB's father and the rest fourteen in all, by GNB himself. They are in English and Tamil. Credit should go to Lalitha Ram for his research and meticulous assembly and arrangement of these articles. In GNB's RTPs, the Ragam part used to be the most dominant one and the Tanam the least. In the book, it is the other way round. Probably it is in the fitness of things that this is so, as from the articles, one can get a better idea of GNB, the musician and thinker in his own words rather than from a multitude of others expressing their views on GNB, as in the Ragam section. The articles are profound and at the same time, precise and to the point. His presidential address in the Music academy in the year he received the title 'Sangeetha Kalanidhi' is a gem. In his articles, he never revels in platitudes and trivialities. He is poignant in his praise of musicians, Ariyakudi, Rajamanickam Pillai and T.Chowdiah.
'Pallavi' deals mainly with personal tributes by his admirers, family members and disciples. Some of them refer to technical aspects of his music which has been adequately covered in the Ragam section. The article by his daughter Sakunthala highlights GNB, the human being. There is also an article on GNB's tryst with the film world.
The book is a collector's item and should be owned by all lovers of music. Indians have been poor in the area of documentation. This is one attempt at documentation of GNB, the man and his music, and with adequate success. There are a large number of photographs, many of them rare. The book has been printed on art paper and is hard bound. Its price at Rs.375 is a steal.
Publishing of this book is a labour of love of GNB's family spearheaded by GNB's son G.B.Bhuvaneswaran and grand-son Mahesh Bhuvaneswaran.
The time available with editors has been short and hence there are some grammatical and typographical errors. Perhaps these could be rectified in the next edition. Captioning of photographs and identification of persons captured in the photograps, to the extent possible, would also be welcome.
The reviewer is a noted Mridangam Vidwan and a disciple of the Legendary Musician Palani Subramania Pillai.
this is txt file