Research 'a quest in search of knowledge using scientific method' - a simple definition but a big course of action. It can be easily defined, but cannot be easily done. It's a mission towards 'Truth'. The mission should be more systematic, followed by set of procedures and techniques, the ultimate gain - 'Knowledge'. As like systematic procedures, the mission also has driving invisible factors - Energy, Time, Money (ETM). If the ETM is not best optimized, it will lead to mental agony, as the mission defines our life. In this article I share my experience how I had been directed by my teacher to carry the mission with the best optimism of ETM. Besides, I have certain how? why? in Research Methodology, sometimes I feel certain concepts are theory, for the sake of theory. But my research under Doctor not only clarified the contradictions but also gained applied knowledge in Historical Methods.
Historical Research includes four major tasks
a) selection of topic
b) collection of sources
c) analysis of facts and
d) synthesis of facts.
All are interlinked, lacking in one will reflect in the other. A smooth running is possible if the preliminary jobs are successful and also systematic. Even selection of guide comes under it, in that I am gifted.
Success of a research depends on the selection of a precise topic. One may think what's in it; history is flooded with sources, can easily select a topic. But in reality it's not an easy job, either we should have wide knowledge and experience or have to do groundwork work for identifying a problem. A wrong selection may lead to devastation. It's not an exaggeration, if the topic is shallow our scope is limited, if the topic is undefined we will be a vagabond. I have seen people struggled, struggling under these categories. But for me without any of the painstaking efforts it happened very easily because of Doctor. He first enquired me whether I have any idea, as I was blank, I left it to him. Instantly he suggested me three topics and discussed the scope of research in all the three areas. I was given freedom to choose out of it, in that I selected Pudukkottai Rock Cut Caves. Nevertheless, a hefty area for my capability, but the geographical and chronological preciseness of the topic and Dr.'s guidance helped me to carry out.
Relying only on original sources is the greatest methodology followed by Doctor. Certainly, it's obligatory to all researchers, but we vary how far and to what extend we go for original source. He gives utmost importance to original source, there is no second thought in it and also tireless in procuring it (this pave way for new findings). Accuracy is maintained by clarifying doubts on field, verifying finished work in the field itself, verifying even published inscriptions. I realized these methods upheld the quality of the work. Multi-disciplinary knowledge (unbeatable in History, Literature, Epigraphy,…) is added factor to his standard. When I reviewed the works of other scholars in the same area he stood apart from others. All these inspired me a lot, I tried my best to incorporate in mine.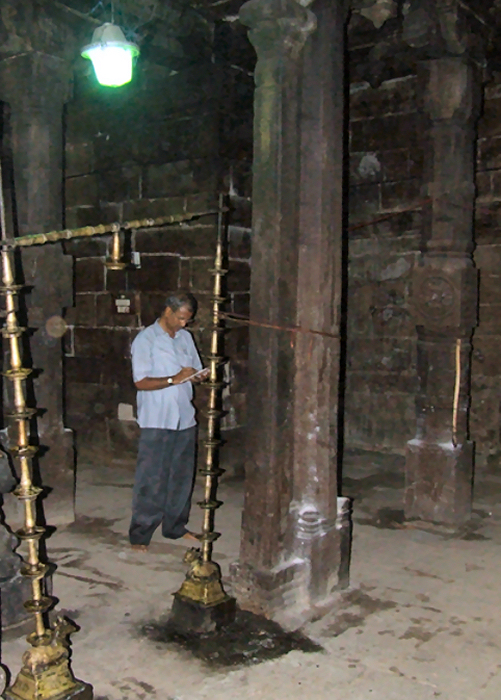 Working a monument is not as easy as working in a library or archives. Reaching a monument itself a hard task (ETM), apart from these, we also have to pass lot of hurdles. In my area of study, except Thirumeyyam and Thirugokarnam the rest of the monuments are in remote places, Sittannavasal most restricted place, Thevarmalai and Poovalaikkudi are in the midst of the forest cannot be easily accessible, Thirumeyyam beyond my capability, besides, some are under priest control. Reaching and working these places of my own are unthinkable. It was a cake-walk with him.
Field visits under Doctor are systematic and well-planned (ETM). I learnt from him the scientific quotient; what to collect and how to collect data in a monument, the artistic quotient how to appreciate the architecture. My first trip was to Narttamalai, the way Dr. works terrified me, and the discussions after that only heightened it, felt as at the foot of the Everest. Even though sketched by Dr. earlier itself, my first trip exposed the depthness of my research. Instantly sparked, Am I capable? I felt blank at that time, but my never looking back attitude made me to stand. I compromised, 'my first job is to collect data let me do it properly', it will pave way for the next. I observe Dr. keenly and try to equip myself in the same way. At the sametime, he instructed me to put everything in write up, added that, field trips had to be recorded within a week as it remain fresh in our mind. These initial methodical works helped me later to work peacefully even in my hectic work schedule.
Meticulous and absolute collection of data helped me to work confidently and comprehensively in the later phase. Relying on primary sources (data collected from monuments) helped me to construct an authenticity work. My initial job was just to convert the physical details into description. One thing I have to share, I was so ambitious in the early stage of my research, expressed that I will cover the entire complex of each cave. Doctor responded simply with a smile and said, 'no problem, can do, but also think of ETM'. In due course of time, practicability reduced my ambition from complex to cave and even within the cave only architecture and for epigraphy to depend on secondary sources.
The write up phase bring to my forefront his perfection and knowledge (scared). It's the phase to face him directly. This pushed me to work hard. For every article I started to spend more time. I even got criticism at home; committing error to your teacher is not an offense, wasting too much of time on my own. My attempt of perfection is not up to his standard, atleast to my level of satisfaction. Dr. advised me to discuss before putting in write up, because I might fall in wrong track, but I felt confident to speak, if I had in write up. This even paved way for reading his various publications on rock cut caves which helped me in better understanding of rock cut caves and also simple way of presenting. My first set of submission got appreciation from him, this gave me confidence to proceed.
One of the earliest advices of Dr. was wide reading, one should have good knowledge in history and literature to do research in history. Everytime I postponed this, as time and interest a great constraint for me. Lacking in this started to reflect in my later phase of research, particularly understanding the political background of the area and period of my study. I devised a short cut method, instead of reading better opt for listening (thought time saving). I know an expert (said) in Tamil Nadu history, so I discussed my area and period and asked for an outline of the political history of Tamil Nadu for my period. Whenever I approached, the expert promised, will clarify, it went on for a period of four months, later only I realized, the expert herself need lot of clarification to this period. Back at square one, as per Dr.'s advice, started self learning. Wide reading and discussion are the two important devices advised by Doctor.
Think simple is another technique that I learnt from Doctor. Political history of my area for my period of study was gloomy. I was very particular (with a scale) to trace out what extent the said contemporary dynasties had their sway in this region, thought, it would help me to authenticate the rock cut caves. My search over secondary sources only heightens the obscurity. But finally, discussion with Dr. paved way for it, he simply said, 'why depending on others? you construct it on your own on the basis of available primary sources' (inscriptions and authored caves), ultimately it came out well. It's a big eye opener for me, realized the duty of the historian is to present the fact as it is, speak on the basis of available sources, there is no need for wild imaginations, creating mysteries stories. History should be genuine.
Think different is another concept I observed from him. 'Minor dynasty', is the term applied by historians for 'Muttaraiyars', so I followed the same in my work. He explained, they were competent, strong in their region, survived even under the pressure from both sides, what's the need to label them as minor dynasty? I was stunned, this is the way we have to think. Using words cautiously is another advice of Dr., I commented the Thirumeyyam panel as madhyama concept by simply counting the number of characters present in it. He made me to understand how I was wrong in understanding the concept.
I was capable of presenting the physical details and making a comparative study on it, but when it comes to the part of explanation to my research I was blank, I lack the historical mind. Purpose of the historical research is to present the society. I simply looked at the twenty caves as structures, unable to imagine the society behind. It was Dr. who made me to understand the force behind the contribution. I realized he is relishing from inside, I am looking from outside.
One of the greatest quality of Dr. is accepting the liberty and individuality of others, which help oneself to grow. He never forces his knowledge on others. He made me to learn, by showing the path, he made me to think, by giving the hint. He gave me freedom to structure my thesis on my own. He follows the long rope system, he knows where to hold, when to hold.
Every higher academic pursuit of mine ended with a great satisfaction that I have done a good project, I am grateful to Doctor, it happened only because of him. I have done three projects under him, all the three are not carried simply for the sake of degree but for the sake of research. I have been gifted to work under a scholar of Great Qualities known for punctuality, perfection, dedication, systematic, well-organized. I realized these are all the mantras of success. I learnt both the arts and science of Temple studies from him. All these not only gave me satisfaction but also created spirit and confidence in me to further in this field.